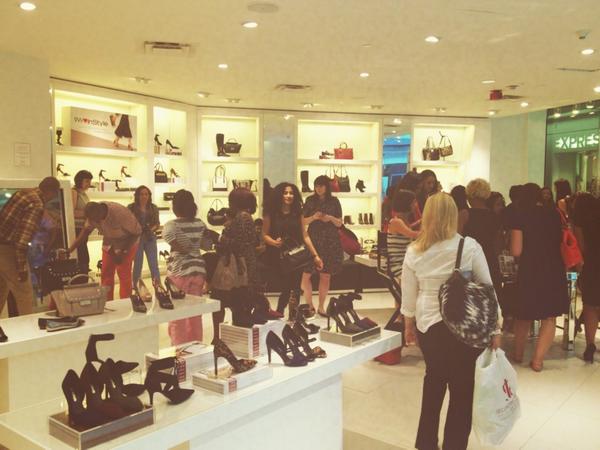 I'm on the left! (From @ShopsatLiberty)
Last week, I received an email in my inbox that literally made me jump with shoe lover joy. Enclosed was an invitation for the launch party of the new
InStyle for Nine West
Fall Collection! Everyone knows by now how obsessed with shoes I am, so I had to RSVP with a big yes. Plus, Nine West is one of my favorite places in the mall to visit when I'm looking for something on-trend, high quality, and at a great price point.
From left to right: Tessa, Cate (back), Jaiden, and Elia
At the preview event, there were plenty of fun activities to get the party started, including a selfie mirror (
SelfieMIR
), music by DJ Lady FX,
Flash Tattoos
, and pink champagne. My top pic was the Elia Open Toe Sandal in black leather. Even with a 4" heel, they were still very comfortable to walk in with the padded insole and arch strap. However, I do recommend sizing down by a half size; I first tried on the size 10 (my usual), but the 9.5 offered a more secure fit.
It was hard to choose with so many cute design options.
Temporary tattoos gone fashionista, it was hard to resist.
On hand to answer questions about the new collection was InStyle's Senior Market Editor
Dana Avidan-Cohn
, with whom I spoke for about ten minutes. Asking her about the collaboration with Nine West and how it all came to fruition, Dana said, "We wanted a brand that was really beautiful that could produce a beautiful shoe at the right price point." While InStyle features many high end or luxury items within its pages, it was important to be conscious of price for this collection because great style requires a balanced mix. Tapping into Accessories Director Leah Karp to curate and design the shoes, the collaboration truly follows to a tee what is happening in the market right now in a very inexpensive way and delivering that to InStyle's readers. Dana shared that, "If you know Leah, she has such beautiful taste. Her personal wardrobe is really curated for the way she dresses. Now, everybody gets to have the Accessories Director at InStyle magazine curate for them through Nine West. It's a great collaboration." Nine West has absolutely delivered on their promise with this perfect capsule of shoes all girls will want for the upcoming season.
Jaiden was tempting; pointed toes are back for fall!
Reflecting on the inspiration for this collaboration, Dana mused about how this collaboration is really about "directing a style savvy girl to a place where she knows she is going to get something that is going to work. You can't make a mistake if you buy any of the shoes in this collection; they'll all have something strong for fall so I think it's a great concept." For the evening, Dana was wearing the Cate Pointed Toe Pumps in navy suede, but she also recommended trying them in the leopard pony hair too with a boyfriend jean rolled up and a white t-shirt half tucked in for a cool weekend or going out look. Summarizing her sentiments regarding the outcome of the collaboration, Dana closed by saying, "I think the details are what we are most proud of. The execution of this collection is just beautiful and representative of when a great editor and a great brand come together. Editors are obsessive about details and brands are great at executing."
You'll just have to try something on!